HP Electrical offers a wide range of ceiling fan installation services across Sydney, including indoor and outdoor fans and replacements.

Our highly trained team of electricians can offer your quality and affordable service that will help you save almost half of your energy costs. 
Ceiling fans are a great option to help keep you cool during the warm summer months in Sydney. However, they're also effective when used in winter. Whether you're planning for an indoor or outdoor ceiling fan installation, trust the experts at HP Electrical.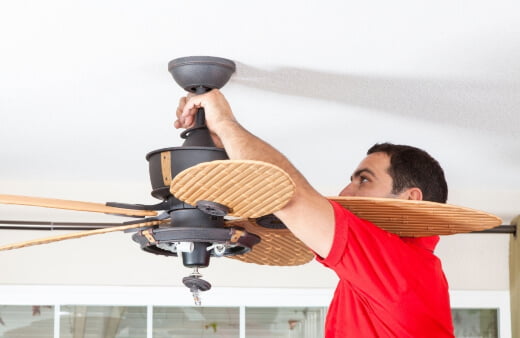 Benefits of hiring HP Electrical to Install Your Ceiling Fans
Experienced & Passionate service.
Quick Response.
Extensive Post-Service Clean Up.
Highly Trained Technicians.
Premium Quality Products.
Stress-Free Solutions.
Benefits of Having a Ceiling Fan Installed
Did you know it only costs as little as 3 cents per hour to run your ceiling fan? In summer, they're an economical way to keep your home cool and can even reduce your costs when used in conjunction with an air conditioner.
Other benefits of a ceiling fan installation include:
They help to keep pests and flying insects away, especially when used outdoors.
Fans can be fitted with lights to help illuminate a room.
There are many super quiet models available, ideal for bedrooms and offices.
Fans are incredibly safe and not hazardous to children or pets.
Fans come in a wide range of colours and styles so that they can complement your home aesthetic.
Even in winter, a ceiling fan can help you save on heating costs.
Using Ceiling Fans in Summer & Winter
Many people already use their ceiling fans, but did you know you can even make use of your ceiling fan in winter? Most modern ceiling fans come with a convenient summer/winter switch, which changes the rotation of the blades.
In summer, blades will be angled to push cool air down and circulate around the room. In winter, blades can be angled to draw up the cool air and circulate warm air around the room.
You can use your ceiling fan in conjunction with the air conditioning unit, saving you as much as 10% on your heating costs. As the fan will frequently circulate the warm air around the room, you won't need to set your AC unit as high, in turn saving you energy and money.
Different Types of Ceiling Fans
At HP electrical, we can provide you with expert assistance for the following types of ceiling fan installations: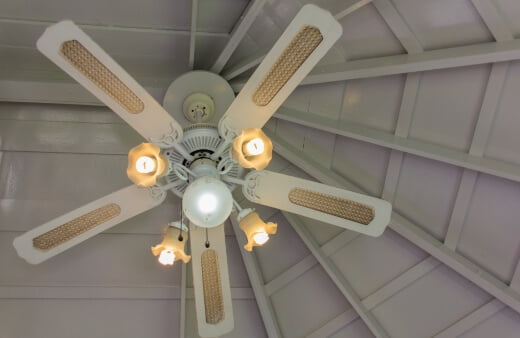 Standard Ceiling Fans
These are the most common fans found in homes across Sydney. These fans usually come with either 3 or 4 blades and in various sizes and finishes such as wood, brass, plastic or metal.
Remote Controlled Fans
These ceiling fans use a remote, much like that of a TV. The remote can help you easily control the on/off switch, fan speed, blade rotation and light brightness. In some cases, you can have one remote to control multiple fans in your home.
Industrial & Commercial Fans
These fans are used to make the heat and cooling of large spaces more economical. These fans will usually have anywhere between 4 to 10 blades and are recommended for large scale use in Sydney.
You can also choose between an AC and DC motor. We recommend DC motors for more residencies in Sydney, as they are more economical and quieter as opposed to AC motors.
Ceiling Fan Services We Offer
As per Australian law, it is a requirement to contract an insured and licensed electrician for your fan installation and ceiling fan replacement. 
When installed, ceiling fans need to be a minimum of 2.1 meters from the floor and at least 300mm from the ceiling. Our specialized technicians will be able to ensure your fan installation meets all necessary standards.
We can assist with:
Ceiling fan installation. 
Functionality testing and maintenance. 
Ceiling Fan Replacement
Ceiling Fan Light Switch Replacement
Outdoor Ceiling Fan Installation
Why You Should Trust Your Ceiling Fan Installation to HP Electrical?
If you need an electrician to install your ceiling fan or require a ceiling fan replacement in Sydney, HP electrical can guarantee fast, efficient, and friendly service. 
Contact us today for dependable services when it comes to your ceiling fan installation and replacement in Sydney.