If you're looking for a licensed expert in TV wall mounting in Sydney, look no further than HP Electrical. Our team can provide you with the quick, friendly and efficient service you need when it comes to a TV wall installation, no matter the size of your unit.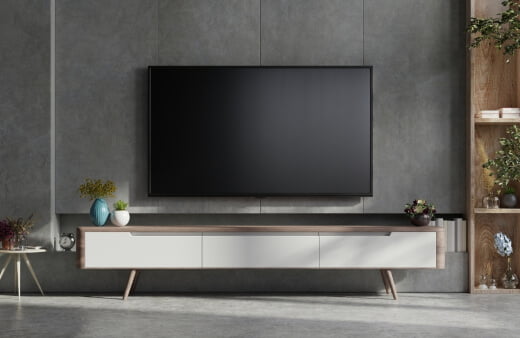 A TV is a must-have item for most homes in Sydney, and if you are planning to have it mounted, it's important to have it done professionally, or you may be left with an expensive DIY nightmare.
The TV wall mounting process does require some expertise and, of course, the right tools. That's why you should trust your TV installation in Sydney to the experts at HP Electrical.
Is TV Wall Mounting Worth It?
Many homeowners may wonder if it's worth the effort of a tv wall mount installation when you could just as easily leave your TV on your TV stand. However, a TV wall mount is really one of the sleekest and space-efficient options around.
Especially these days, you can mount your TV pretty much anywhere. At HP Electrical, we offer a TV wall mounting for service for lounges, home offices, bedrooms, kitchens and even bathrooms.
Reasons you should consider a TV wall mount include:
Safety. Mounting your TV to the wall is ideal to avoid any accidental bumps that may damage your brand new TV. Plus, it's a really good theft deterrent. However, you will need to make sure the TV wall mount installation is done properly.
Space. You won't need as much space on your TV unit if your TV is mounted, or you can eliminate your TV unit altogether. That's why mounting your TV is ideal for smaller living spaces.
Style. Mounted TV's just look a lot more elegant than free-standing TV. You can hide your cables more discreetly and just have an overall neater looking space. Plus, you can get all kinds of adjustable, tiltable mounts.
Reduced Glare. Tilting brackets can help you minimize any kind of major glare on your screen, which is ideal for comfortable watching.
What TV Wall Mount Do I Need?
You will need to check the specifications of your TV model to determine a compatible TV mounting option. Then, you'll need to consider the price. There is a huge amount of TV wall mount and bracket options available. Some examples include:
Low-Profile (AKA Flat or Fixed Brackets)
Tilting Brackets
Under Cabinet Brackets
Full-Motion Brackets
Ceiling Mounts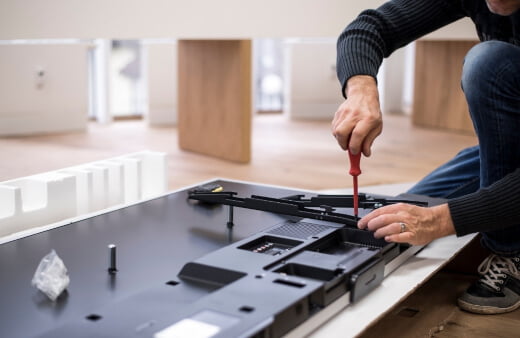 Does Mounting a TV Damage the Wall?
In order for your TV wall mount to be installed correctly, it will require the drilling of holes into your wall. Also, if you want your cabling to remain discreet, our technicians will need access to the wall.
However, when you use a professional, experienced TV wall mounting service like HP Electrical, you can rest assured that installation will be completed quickly, discreetly, and without any major damage to your walls.
What is the Best Way to Mount a TV on a Wall?
There really is no ideal way, and how you plan to mount your TV to the wall will depend on your spatial requirements, preference and, of course, the size of your TV unit. At HP Electrical, our TV wall mounting service will include an inspection to help you determine the ideal spot for the mounting you have chosen.
So, if you require a TV installation in Sydney, contact the team at HP Electrical today.
We can guarantee:
Fast & Friendly Service.
Neat & Tidy Installations.
Installations to Your Specifications.
Installation of Speakers or Sound System.
Getting the job done right the first time.
Call HP Electrical For Your TV Wall Mounting Today
Don't risk having your TV installation in Sydney go wrong. At HP Electrical, all of our technicians are fully licensed and insured. Contact us today to find out how we can help you with your TV wall mounting.