At HP Electrical, we specialise in smoke alarm installation as well as smoke alarm testing services in Sydney.
We understand how important it is to keep your family safe. Ensuring you have a functioning smoke alarm system is a must for every homeowner and tenant in Sydney.
Smoke alarm systems are an essential warning mechanism in an emergency, which will protect you and your family and your home too. This is why it's so important to ensure your smoke detector is properly installed and maintained.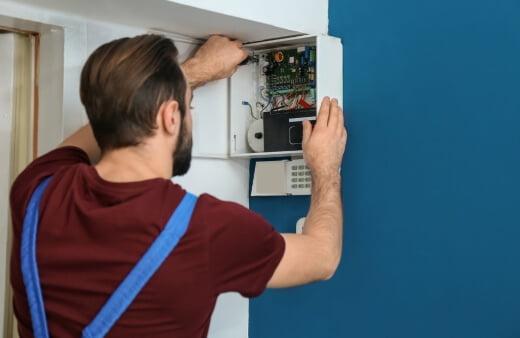 Are Smoke Alarms Installation Compulsory in NSW?
According to legislation in Sydney, all residencies need to be fitted with a smoke alarm system on every level of your home. This includes private residences, rental properties, relocatable homes, caravans and camper vans.
It is important that your smoke alarm installation is done correctly and in the right spot and that all systems meet Australian Standard AS 3786.
As part of the legislation, a smoke detector must be situated in all hallways near bedrooms on each floor of the residence. Even if there are no bedrooms on a certain floor, a smoke detector must be installed in the most accessible area.
Which Kind of Smoke Detector is Best?
Ideally, your smoke alarm service provider will be able to advise on which smoke alarm is best suited for your kind of residence. The most commonly used smoke alarm systems are a Lithium smoke detector, which comes in two types: Ionization and Photoelectric.
Ionization systems are often not recommended as they tend to fault easier. Photoelectric systems are preferred as they have the most responsive and tend to signal alarm far quicker as opposed to ionization systems.
For larger homes in Sydney, we recommend looking at an interconnected smoke alarm system. Should one system register the presence of smoke, all alarm systems throughout your home will begin to sound, quickly notifying all members of your household.
Why is Smoke Alarm Maintenance Important?
Not only does your home in Sydney need to be equipped with a properly installed smoke alarm system, but you will need to make sure you undertake regular smoke alarm maintenance.
As with any electrical system, it can become subject to technical faults or issues over time. Faulty systems can also start to trigger when they're not supposed to, which can become frustrating.
This is why it's important to undertake yearly smoke alarm maintenance.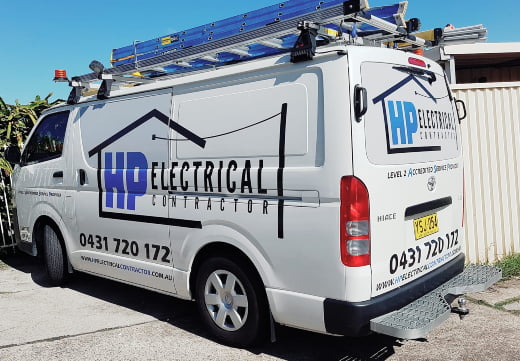 Can I Replace or Repair My Smoke Alarm System Myself?
Smoke alarm repair can become tricky if you do not have experience with these systems, especially if you have an interconnected smoke alarm system. This is why seeking out professional smoke alarm testing services to regularly check your system is recommended.
At HP Electrical, we offer smoke alarm testing services across Sydney. Our experienced team can assist with all your testing and smoke alarm repair needs, giving you the peace of mind that all your systems are properly functioning and up to standard.
What to Expect From Your Smoke Alarm Maintenance?
When you contract your smoke alarm testing services to HP electrical, you can be guaranteed quick, efficient and friendly service.
During your smoke alarm maintenance, we will:
Clean Your Smoke Alarm.
Particles built up from dirt or dust can affect the efficiency of your smoke alarm system. So, during your smoke alarm service, our team will clean each of your smoke alarm systems.

Check The Operation & Battery.
We will check the functionality of each system and test each battery. Even hardwired smoke alarm systems are required to have a backup battery which needs to be checked.

Give You Advice on Your System.
Throughout your smoke alarm service, our team will provide you with helpful tips to improve the longevity of your system and how you can check it yourself.
For Smoke Alarm Installation, Repair & Maintenance – Trust HP Electrical
The importance of a properly functioning smoke alarm system cannot be understated. That's why it's so important to trust your smoke alarm installation, smoke alarm repair and smoke alarm maintenance to the experts in Sydney.
With extensive experience in smoke alarm service in Sydney, we can provide you with the best service you can rely on. Contact us today to find out how we can assist you with your smoke alarm installation.