It's not always easy to find a reliable Level 2 Service Provider in Sydney when you really need one. We understand how aggravating this is and that's why we provide prompt service for your electrical needs.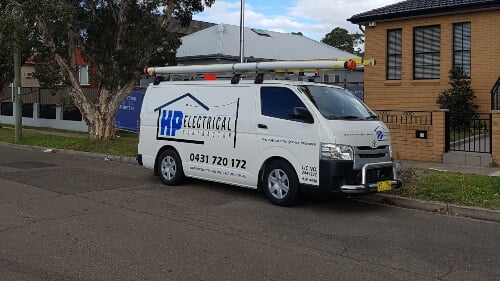 What is a Level 2 Service Provider Sydney?
So, what is a level 2 accredited service provider and why do you need one?
You need one because they are certified by the government and possess the requirements that are necessary that give them the authority to physically hook your service up to the network.
Only certified level 2 electrical contractors can perform this type of work.
We can undertake any work ourselves, and this allows us to provide you with the best service possible and we can complete the job faster.
If your service is damaged or you need to upgrade your meter to run 3 phase machinery a level 2 service provider Sydney is required. Here at HP Electrical Contractor, we are certified and we can help you will all of your electrical needs.
Services a Level 2 Service Provider in Sydney Can Perform
So, what jobs are a level 2 service provider Sydney able to perform? We are able to offer you the following services:
» Underground and Overhead Cables
Underground cable services are the safest option when connecting to the network. Having your lines buried by an underground level 2 service provider Sydney can help to limit your power outages.
Underground cables cannot be damaged by inclement weather, downed tree limbs or wildlife.
They can be damaged by digging, so they need to be properly buried so they are not easily accessed and accidentally cut.
Underground power installation consists of installing and connecting consumer mains to the point of supply. We are also able to disconnect and reconnect consumer mains to the point of supply.
Overhead power cables are the most common way to connect to the network. Being a level 2 service provider Sydney we are able to provide you with overhead cables. Our electricians are able to install, connect, relocate and upgrade overhead service lines.
If your overhead lines have any defects, they need to be rectified. Cables can be easily damaged. Most common defects are bare wires, UV damage, trees, low hanging wires, damaged boxes and broken brackets.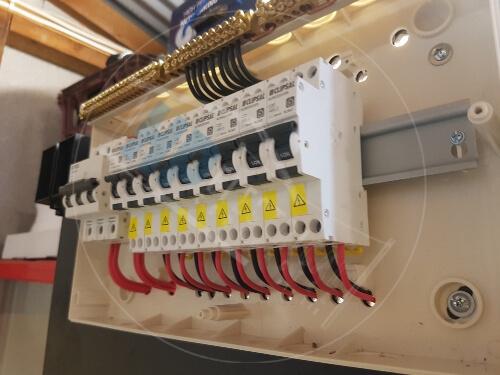 » Electrical Metering
HP Electrical Contractor can install new meters and upgrade your existing meter. If you need to run 3 phase machinery and only have a single phase meter, you will need to upgrade.
There are many types of meters to choose from. We will work with you to help you decide what meter is best for your situation.
Are you in need of a new meter or a meter upgrade? We are a level 2 service provider Sydney and we will install whatever type of metering that you require.
We offer services with the following types of meters:
1 Phase and 3 Phase Meter Installation
Off-peak Meters
Solar Metering
» Disconnecting and reconnecting to the street power
We are licensed to disconnect and reconnect your service to the street power. We can replace service fuses and move the point of attachment.
» Switchboard Upgrades
Switchboards can become outdated or have defects. We are able to remove, replace, upgrade and relocate switchboards.
If your switchboard is defective it can become dangerous and lead to electrocution or house fires.
Defective boards need to be brought up to code to keep home and family safe. Your switchboard may also need to be upgraded due to the fact that it is outdated and cannot keep up with your current electricity needs.
» Electrical Repairs
Our level 2 service provider Sydney electricians are highly knowledgeable in all types of electrical repairs. We can troubleshoot your issue and find the cause of your problem.
» Defect Rectifications
HP Electrical Contractor can take care of your defect rectifications. Defects can be costly, but we will help you through the process and will get any issues taken care of as quickly and cost-effectively as possible.
» Pole Replacement and Installation
We can replace your existing power pole or install a new pole. If you have an existing pole it can become damaged. It is important to perform regular inspections of your pole. Look for any defects that may cause an issue.
Including but not limited to:
Leaning
Cracks
Termite Damage
Rotting Wood
Rusty Steel
There are two major types of power poles. They each have pros and cons.
1. Treated Hardwood Poles
Treated hardwood poles usually have a lifespan of 30+ years. This is longer than the lifespan of galvanised steel poles. They are subject to damage from high moisture content and termites.
Your location is important when choosing what type of pole you have installed. Areas with high termite activity and coastal regions may not be the best locations for these types of poles.
2. Galvanised Steel Poles
Galvanised steel power poles usually last around 15 years. These types of poles are popular because they are more aesthetically pleasing and can be painted to match their surroundings.
Steel poles can rust and become unstable. They need to be inspected on a regular basis.
Temporary Power Poles
We also install temporary power poles. Construction projects usually need temporary power poles to provide power for equipment and job site trailers. We will install and remove all poles, lines and any equipment.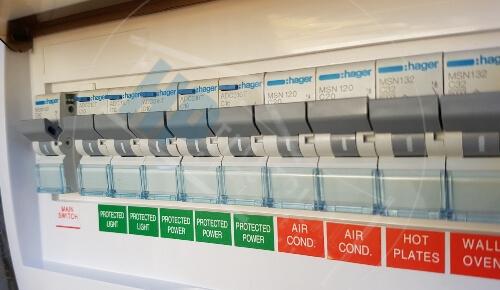 Other Electrical Services We Provide
We are also able to perform many other types of services including but not limited to:
Changing/Installing Lights + Light Switches
Changing/Installing Powerpoints
Electric Car Charging Stations
Hot Water Systems
Installing Fans
Installing/Connecting 1 and 3 Phase Machinery
Outdoor Lighting
Ovens and Stoves
Rangehoods
Relocate and Make Safe Electrical Equipment During Renovations
Replacing and Installing RCDs and Circuit Breakers
Smoke Alarms
Upgrading Supply for Air Conditioners
Wire and Rough in New Homes and Renovations
Call Now For Sydney's Leading Electrician
We are level 2 service provider Sydney that are based in Fairfield East. We service homeowners who are looking for a level 2 electrician or domestic electrician in Sydney, in areas such as Blacktown, Parramatta and Seven Hills NSW.
Here at HP Electrical Contractor, we are so certain that you be satisfied with our work we offer a 100% satisfaction guarantee. We are a level 2 service provider Sydney and we can take care of all of your electrical needs.