Underground electrical service is becoming a more popular option for homeowners and businesses alike. Overhead power lines are an eyesore and can be easily damaged leading to loss of power.
The certified electricians at HP Electrical Contractor are experts in their field in Sydney and can install your underground electrical service.
If you are a homeowner looking for underground electrical contractors, you will need a level 2 electrician. Give us a call, and we will discuss with you all of your electrical needs.
For a FREE quote from Sydney's leading underground electrician: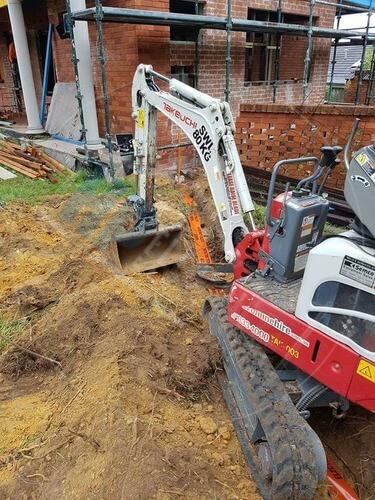 Advantages of Underground Power Cable Installation
Underground cables that have been properly buried by a level 2 electrician are less likely to be damaged. They cannot be damaged by inclement weather, wildlife or tree limbs.
Burial of an underground electric service needs to be done by an electrician that has had the proper training and knows the correct underground electrical service depth, which is 600mm. This will help to prevent anyone from getting injured.
Disadvantages of an Underground Electrical Service
Damage to underground lines can take longer to fix. The damaged area has to be located and the area needs to be dug up before any work can be done to get power restored.
Planning for Underground Electrical Cable Installation
Before you run underground electrical service to your house it is important to make a plan. It is essential to know if you will be adding any additions onto your home, a garage or even a swimming pool. If lines are buried and future construction is going to take place they will need to be relocated. This takes a lot of time and will require you to spend even more money.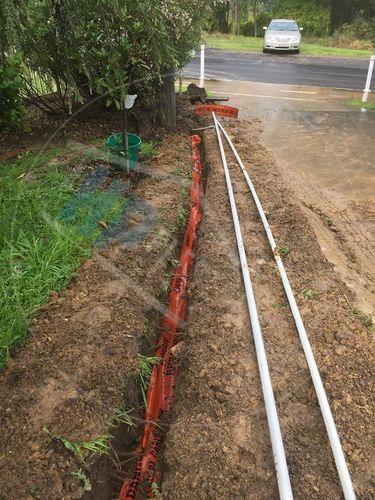 Installation of Underground Electrical Service in Sydney
Underground electrical service is able to get your lines out of sight and out of mind. During the underground electrical cable installation process, we will run a cable from the network pole or pillar, private power pole to your home.
Before we install the line we will remove the grass from the area that will be disturbed. Once the grass has been removed, we will dig a trench to accommodate the wire. If there is a sidewalk or driveway we can bore under it and use a pipe to keep the cable safe. In most cases, we will not have to cut through the concrete or asphalt. After the cable is laid and the area has been backfilled the grass that we removed will be re-laid.
We use double insulated XLPE waterproof cables for underground electrical service. These cables meet the Australian standards. All underground cables will be installed in orange heavy duty conduit. Underground electrical service depth is at least 600mm deep.
If necessary, we can also install private pillars and pits.
As a preventative measure, a marking tape is laid halfway between the conduit and the surface of the ground. This safety measure helps prevent someone from accidentally hitting the power line. If they are digging in the area, they will hit the marking tape first.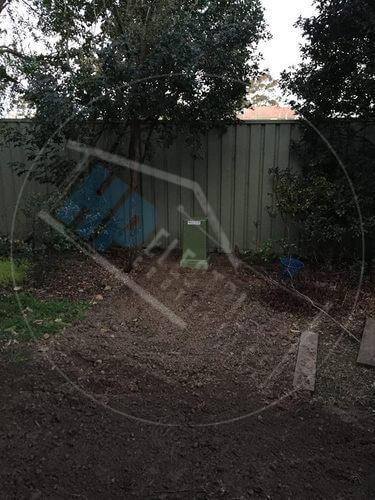 Fixing Damage to Underground Electrical Service
Underground cables do not experience the amount of damage that overhead cables do, but it does happen. If someone has been digging in the area and hits your line they can easily snap it in half. If this ever happens, call us immediately and make sure the exact area is marked. If work is continued, the line will get covered back up making it very difficult to find the break.
Temporary Underground Electrical Service
HP Electrical Contractors also installs temporary electrical service. Job sites usually require overhead service, but in some cases, underground electrical service is needed. This service provides the needed electricity for job site trailers and power tools.
For this underground service, we will install a temporary power pole underground and mount the meter and receptacle box. The pole will sit above the ground approximately 7'6". Once the service is no longer needed, we will remove the pole and equipment. If needed our electricians can also install the permanent service.
What HP Electrical Can Do For You
No matter what size job or what type of issues you may be having our certified electricians can take care of the work. There's no need for you to call an A grade electrician to perform any of the work. Being a level 2 certified electrician gives us the qualifications needed to handle all of your electrical work.
If you are upgrading your power cables or having an existing line fixed you may also need a switchboard upgrade to meet the electrical safety rules. If your switchboard is old it can cause issues. Outdated switchboards can lead to electrical shock as well as house fires. By bringing it up to current standards, you will be making your home a safer place for your family to live.
Private Power Poles
It may be necessary for you to install a private power pole on your property and bury the line to your house. Having a private power pole installed gives you the opportunity to put the pole in a more convenient area.
Private power poles do come with their own responsibilities and need to be maintained.
Here at HP Electrical Contractor, we can perform inspections and fix any defects.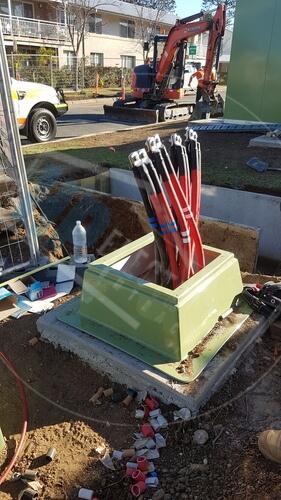 Types of Power Poles
There are two major types of private power poles to choose from. When choosing between the two take into consideration the following information.
Treated hardwood poles are the most common type of pole that you will see. They usually have a lifespan of 30+ years. They are not recommended for areas with a high moisture content or termites due to the fact that the wood can experience severe deterioration issues.
Galvanised steel poles are becoming popular since they are more visually pleasing and can be painted to match their surroundings. They do not last as long as treated hardwood and are susceptible to rusting. They usually have a lifespan of around 15 years.
Choosing which type of private power pole you want can be a difficult decision. If you have any questions, we are here to help you decide.
Contact HP Electrical Today
Underground electrical service must be performed by a qualified level 2 certified electrician. We are based in Fairfield East – South Western Sydney and service homeowners, businesses and builders in all areas of the Sydney region including Western Sydney, Liverpool, Blacktown and Parramatta NSW.
If you are wanting to bury your electric lines underground, call HP Electrical Contractor today. Our certified electricians can provide you with new, replacement or temporary power. Since we are a level 2 certified electrician we can take care of any electrical needs that you have.
To schedule your underground electrical service: