If you are a homeowner looking for a local electrician Parramatta give us a call.
We are fully insured master electricians that are also Level 2 certified. We are experts in our field and will provide you with exceptional service.
Here at HP Electrical Contractor, we service Western Sydney, areas of Liverpool, Wetherill Park and Fairfield NSW.
With more than 12 years of experience, there isn't a job that is too big or too small. We can take care of any electrical issue that you may have. We are so sure that you will be satisfied we offer a 100% satisfaction guarantee.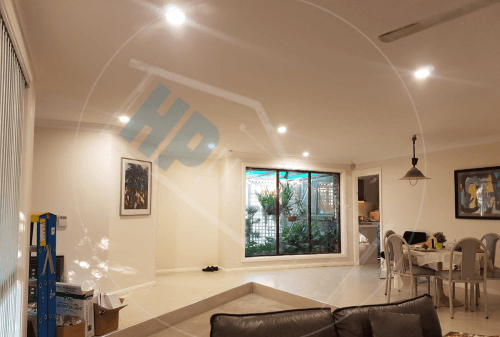 Why Should We Be Your Local Electrician In Parramatta?
We offer 100% Satisfaction Guarantee
There's no job is too big or small
We are licensed and level 2 certified
We can complete your job in just one day
Give free estimates and quotes
We will remove any rubbish left over
Provide quality workmanship
Always offer you the best solution for your problem
Safety always comes first
Will meet all of your electrical needs
Our electricians are fast and professional
We will exceed your expectations
Residential Electrician Parramatta
Do you need to have electrical work done in your home?
Call HP Electrical Contractor. We are your local electrician in Parramatta NSW and we will get your work done quickly and safely. We are also a level 2 electrician so we can take care of any electrical needs that you have.
Qualified and licensed to take care of all of your electrical needs.
Some of the Residential/Domestic Services we Provide
Changing/Installing Lights + Light Switches
Changing/Installing Powerpoints
Electric Car Charging Stations
Hot Water Systems
Installing Fans
Installing/Connecting 1 and 3 Phase Machinery
Outdoor Lighting
Ovens and Stoves
Rangehoods
Relocate and Make Safe Electrical Equipment During Renovations
Replacing and Installing RCDs and Circuit Breakers
Smoke Alarms
Upgrading Supply for Air Conditioners
Wire and Rough in New Homes and Renovations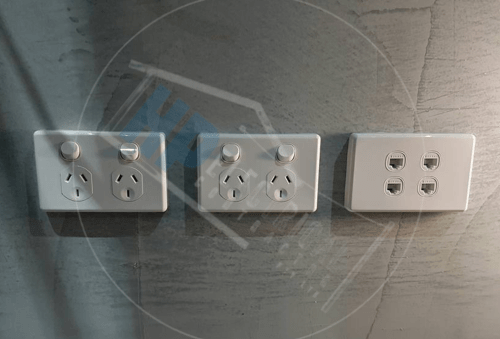 Level 2 Electrician Parramatta Services
We offer the following level 2 electrician services:
Disconnections and Reconnections
We can disconnect and reconnect your service to the network. We can run new power lines and/or move the existing points of attachment. All jobs completed in one day, so you are never without power.
Underground Services
Underground power lines are the safest option when running your service line. If the lines are buried there is less of a chance that they will be damaged, resulting in a power outage. We can replace service fuses, service active and neutral links if required.
Overhead Services
Overhead services are the most common type of service. We are certified to offer new installations, disconnections and reconnections, upgrading and relocating. We will replace service fuses, service active and neutral links if required.
Metering Removal and Installation
HP Electrical Contractor's electricians can upgrade existing meters and install new meters. You have to have a meter when you are attached to the network. This meter will keep track of your electricity consumption. It is also possible to save money by upgrading your meter.
Whether you need to upgrade your existing meter or are in need of a new meter we can take care of it. We are a level 2 electrician Parramatta and we can install whatever type of metering that you need.
There are many different types of meters. We provide the following types of meter installations:
1 Phase and 3 Phase Meter Installation
Off-peak Meters
Solar Metering
Granny Flat Meter Installation and Split Electricity Metering
Smart Digital Meters
Switchboard Upgrades
If you have an outdated and defective switchboard it is important that you have it upgraded. Defective switch
boards can be dangerous and can cause electrical shock, electrocution and house fires. Older switchboards may need to be upgraded because they cannot handle your electricity needs.
Switchboards are the key to your home's electrical needs. Switchboard upgrades are common and our electrical services Parramatta team can handle them with ease.
After we install your new board we will also remove all the rubbish.
If your existing switchboard contains asbestos it will need to be removed.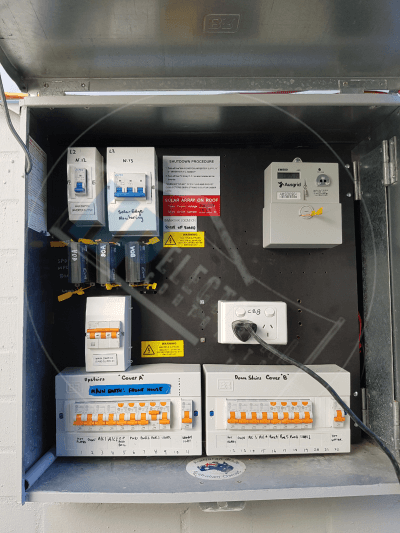 Private Pole Installation and Replacement
We can install new private power poles and replace existing power poles that are damaged. If your pole is inspected and found faulty an inspector can turn your service off immediately. To make sure that this doesn't happen, inspect your pole regularly and take care of any issues right away.
There are two major types of poles to choose from.
– Treated Hardwood Poles
Treated hardwood poles typically last for 30+ years which is longer than galvanised steel poles. They are subject to damage from termites and moisture. They are not the best option for coastal regions.
– Galvanised Steel Poles
Galvanised steel power poles typically last for 15 years. Which is about half the lifespan of treated hardwood poles. These poles are aesthetically pleasing and can be painted to match their surroundings. Steel poles are susceptible to rust.
Temporary Power Supplies
Temporary power poles are often needed on construction job sites. Electric is needed to run equipment and power job site trailers. We will install all poles, lines and any equipment and remove everything when you are finished.
Some common emergency problems we resolve:
Replace defective switchboards
Restore power to homes and offices
Troubleshoot issues causing lack of power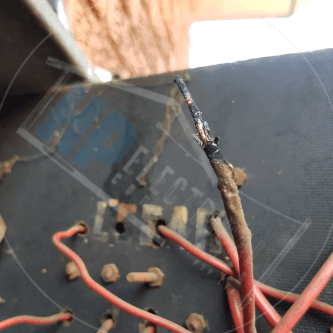 Are you experiencing any of the following issues?
Is your power completely out
Did your lights stop working
Is your overhead line damaged
Was your power pole or service line damaged
Do you notice an electrical burning smell
Are your fuses constantly blowing
Do your fuses feel hot
Is your electric causing sparks or arcing
Do your lights flicker
Is your switch broken
The switch does not stay on
Electricity is dangerous
We never recommend that you try to fix electrical problems yourself. Call in a professional that has the required training to fix problems safely.
It's always important to remember that electricity very dangerous and can be deadly.
Our highly knowledgeable electricians are qualified to deal with any electrical job that you have and they can do it safely. Hire HP Electrical Contractor to take care of all of your electrical needs.
Call us today for your free quote
If you are looking for a level 2 electrician or a residential/domestic electrician Parramatta call us today. We are level 2 certified electricians so we can take care of any electrical work that you need completed.
HP Electrical contractor will provide you with excellent service. We are so sure that you will be satisfied we offer a 100% satisfaction guarantee.
Or contact us to book in or get a free quote. We are your local electrician Parramatta.